Warning: This entry is long-winding and largely incoherent, full of over-romanticized emotions, has more text than visuals and contains a bit of rant.
I watched Sugarfree's last gig in Los Banos alone, and I'm glad I did.
I read on their Twitter and FB that they were playing UST before Elbi, so I knew they'll probably be playing Elbi late. Nevertheless, I dropped by the fair much earlier (at around 10pm) to meet up with Kat to return the makeup she left at our house during our shoot. Then I spent the rest of the time  with Issa (and Allyn and Miguel at some point) lazing around at the SOMA booth.
Enzo dropped by for a while and we had some innards and fair food. At about a little past midnight, we bumped into some orgmates saying they signed the booth out for the day. HOW BORING. Who signs the booth out that early on  Thursday of Feb fair? Now we had no place to hang out in. *pouts*
Mariang Banga park but you can't really see her. Also, it's not really a park. What a useless photo haha!

We hung out at those iron benches of Mariang Banga instead (thank you, whoever gave this to UPLB). We heard Radioactive Sago Project playing in the background and we made cracks about how Lourd De Veyra is such a pretentious hipster/epic fail Daria-wannabe (note that bored way of talking). Enzo channeled his inner hipster with the remark "This would've been so cool five years, ago." Sometimes I don't know what to think of that guy.
Soon (that was a bit past 1AM, I think) Issa and Enzo had to bail, because they had classes and had to finish our Visual Novel (that we demo-ed on KomiksTrip, not sure if I'll blog about it yet). And I was all alone with my girl Mariang Banga. Which was ok since I could wait for my sister, but that made me realize HOW OLD I AM and how I HAVE VERY FEW FRIENDS. When I was an undergrad I wasn't afraid of going places on my own because I knew I'm bound to find someone to hang out with there. I did find my sister, but she was hanging out with her orgmates and I don't think I'm welcome there lawlz.
Bah, roneriness. Challenge accepted.
Anyhow, it was past 2pm and Sugarfree was about to start playing anyway. I dragged along over the the back of the crowd that has formed in front of the stage. I actually got a nice vantage point at first, although a bit far back, it was center and if I tilted my head just a bit I could see the stage pretty clear. Until a few moments later, I realized I was standing right beside my ex. I'm pretty certain he wasn't there when I first walked over. I'm not sure if creeped his way near me or it was some damn crazy coincidence. Tbh I'd rather be stuck in between hoards of stinking sweaty figurative wild bees than be next to him. I had to leave.
My view during sugarfree's last gig in Elbi.
And that's how I got this spot.
I admit, I think the last time I've out to watch bands play was probably 2005 or 2006. I used to be so into the scene, back in the days when bands would play in UPLB regularly, and for PHP100 you get 10 breakout bands, several main acts and a CD of songs you'll never hear again (some gave beer, but I was a good kid in high school). I remember stanning bands with Jen (she gave me Miggy's (Chicosci) then number for my 15th birthday! Hey don't judge.) and her roomie Gela (who knew who's who and how to get to places, wonder where she is now).
Sugarfree  finally started to play. It wasn't the best Sugarfree live I've seen, but somehow in that place, at that moment, for that particular time, it was appropriate. Ebe told stories more than they played songs, but I guess it's ok coz there won't be another chance to tell them. They played most of the songs I liked. It was such a cute moment when drunk Ebe played guitars for Los Banos for their little encore thing. I got teary-eyed when they played Burnout and I don't know why.
It was a perfect last performance (hey I told you I was gonna over-romanticize)… except for one thing. The audience? Was the UPLB crowd always this lethargic? I don't think so. I remember people were always lively despite whoever's playing. People will be cheering, singing along, waving their hands, clapping, jumping to the beat (especially the people at the back because jumping allowed them to see the band through the sea of people) or otherwise showing some form of appreciation/participation. But now, nothing. It was almost a pity the way Ebe would demonstrate to the audience how to clap (he really did that…) yet even after that everyone would follow for a while then peter out after a few minutes. Is it not cool to rock out anymore? Has even the jumping jologs stopped jumping? Shame. Fucken hipsters
Cameras blocking my view. How annoying.
What I noticed though was a lot of people were more interested in taking pictures/videos than in the performance itself. Why???? Maybe a couple of snaps would be enough, but you go see a band perform live to be able to see a band perform live. To experience them and to enjoy yourself. Not strain your arm muscles and collect ugly blurry pictures and low quality hardly discernible videos. Technology, why do you take the fun out of everything?
It was a very good show, but I kinda wished the people would get more excited about it. I know they're enjoying themselves.
Finally it was over. Very early friday morning, under the light of the full moon, I saw Sugarfree for the last time (won't be able to make it to the Eastwood gig tomorrow, but I hope the crowd would be livelier there). It took me so much effort to drag my hikikomori fat ass to the Feb Fair, only to end up waiting for hours and finally watching alone. But it was worth it. I'm glad I did.
Actually, my night didn't end there, but whatever happened after is pretty irrelevant and no1currs anymore so I leave you with this photo of ooh… Physci at 4AM.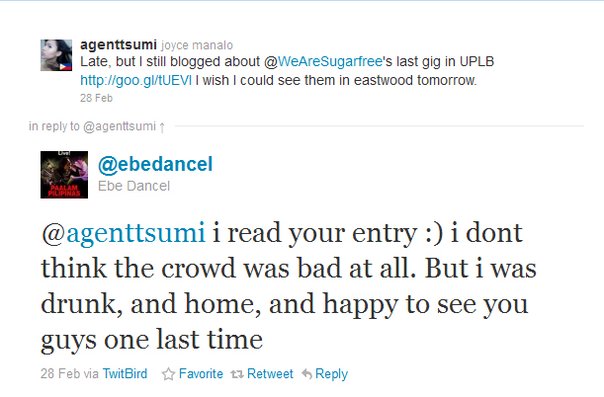 UPDATE: OMG Ebe Dancel replied on twitter. Now I really feel bad for not seeing Sugarfree's Paalam Pilipinas.